I know it can be tricky to shop for natural skincare for rosacea, especially with highly reactive skin.  So I made a few videos to show you step-by-step how to use the Radiantly Clear Rosacea / Demodex Botanical Skincare System. I'm also sharing skincare rituals + tips to inspire you to infuse intention and healing when using our beautiful botanical skincare products for rosacea.
Please scroll down to watch the rosacea skincare videos.
How To Use The Rosacea Demodex Skincare System
5-Step Rosacea / Demodex Botanical Skincare System
Taking care of your skin can be a ritual of self-love if you bring intention to the process. It's an opportunity to breathe deeply and send love to your skin. Your thoughts and feelings have a tremendous influence on your cells — be discerning and use this moment as a healing ritual.
Make it a ritual:
1. Breathe deeply & centre yourself
2. Massage your skin with love
3. Watch your self-talk: how are you talking to yourself or your skin when you look in the mirror? Be kind to yourself, friend. Your cells are listening…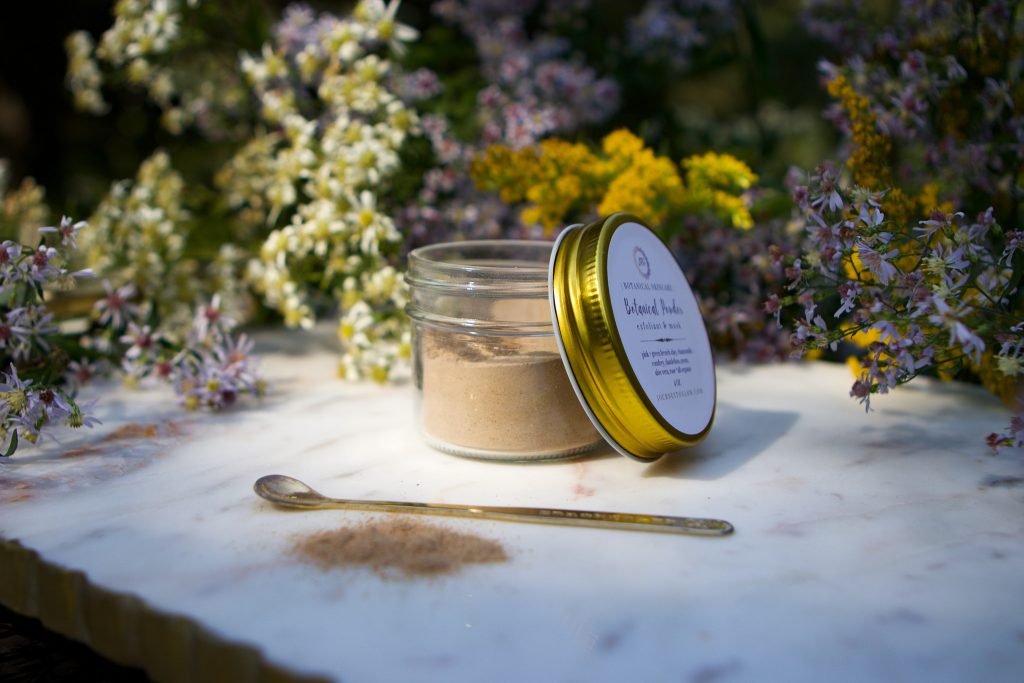 Step 1: Botanical Cleansing & Exfoliating Powder
I suggest using the Botanical Exfoliating Powder 2 to 3 times a week to start. If you currently have Demodex breakouts, use the Botanical Exfoliating Powder daily, either as an exfoliant or mask. Once your skin is back into balance, use it once a week or when your skin needs a gentle exfoliation.
HOW TO USE:
Add about a teaspoon of powder in the palm of your hands and spritz a bit of hydrosol or purified water until you have a consistency that's easy to apply to your face. You can also mix the powder honey if you want to make a mask.
If your skin is very inflamed, gently pat the powder mix on your face, leaving it on for a few minutes so the botanicals can get to work. If you feel like your skin could benefit from deeper exfoliation, massage the powder gently.
Rinse abundantly with lukewarm water.
**If your skin is too inflamed or reacts to the powder, wait to use it once your skin is calmer. The radiantly Clear Face oil and Aloe MSM should help.
*You do not have to wash your face every morning! If your skin feels balanced, skip the washing part and instead spritz the Soothing Flower Water and wipe excess with an organic cotton pad. Spritz again then wait for it to be absorbed.
Benefits of the Botanical Cleansing & Exfoliating Powder:
clears dead skin cells

anti-inflammatory,

anti-bacterial and anti-viral properties
skin softening
prepares your skin to receive the Aloe MSM Serum and Radiantly Clear Face Oil
Customers also report these benefits:
fewer Demodex breakouts

tighter pores

a clearer complexion

fading of dark spots

faster healing of scars
Shop Botanical Cleansing & Exfoliating Powder
A NOTE ON TAP WATER: Tap water coming from cities or towns is filled with chemicals as it is "filtered" using fluoride and toxic chemicals which can disrupt your skin's microbiome (and your health). Consider using an additional filter to remove toxic chemicals from your water — especially drinking water!
A NOTE ON WASHING YOUR FACE: When healing rosacea, overwashing your face can do more harm than good, as it will damage your skin barrier. Most days, it will be enough to rinse your face with warm water and follow using the Soothing Flower Water as a "toner": spritz abundantly, wipe with a cotton ball, spritz again and let it air dry.
Avoid foaming agents and harsh cleansers that contain a long list of unpronounceable ingredients.
For more skincare tips please read: healrosaceanaturally.com/how-to-heal-a-compromised-skin-barrier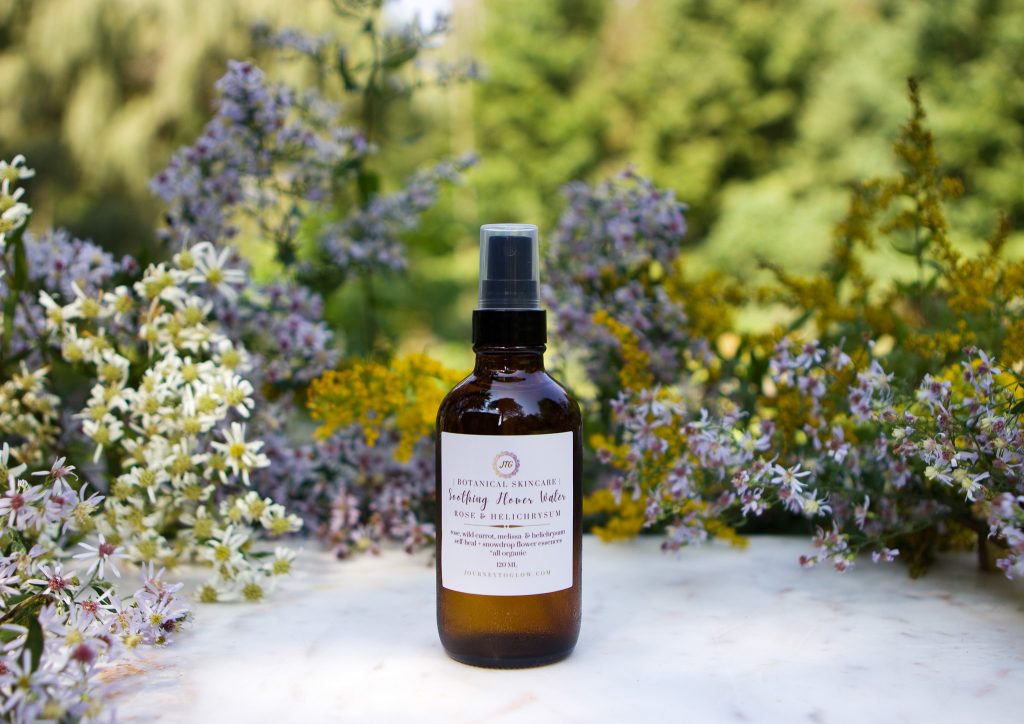 Step 2: Soothing Flower Water
On a clean face, spritz the Soothing Flower Water (hydrosol) abundantly on your face. Inhale deeply, it smells divine! Allow to dry before applying the serum.
Benefits of our Soothing Flower:
Refines pores

Soothes and softens

Restores hydration

Brightens the complexion

Promotes oil production equilibrium

Prepares skin to receive nutrients

Safe for sensitive skin and inflamed or aggravated rosacea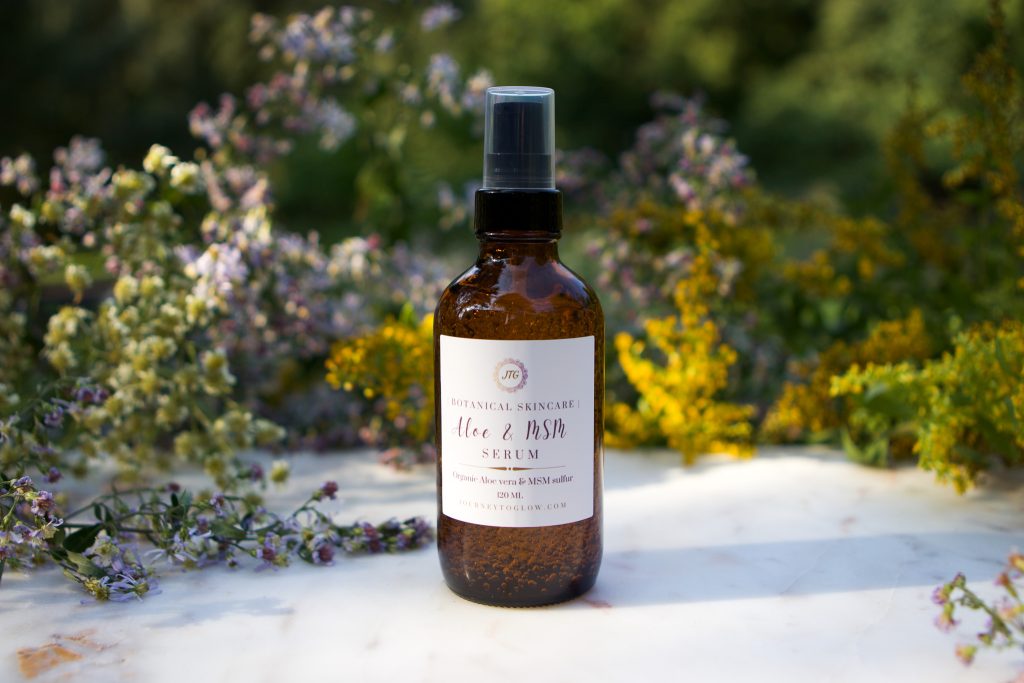 Step 3: Aloe Vera & MSM Serum
Apply half a pump of Aloe Vera & MSM Serum to your face. This serum is best paired with one of our face oil such as the Radiantly Clear Face Oil or Calm Skin Calendula. 
Benefits of Aloe Vera & MSM Serum:
Aloe vera is rich in Vitamins A, C, E, and B12. Possessing potential antioxidant and anti-inflammatory qualities, aloe vera can support the skin's elasticity and suppleness while protecting it from environmental stressors. Aloe vera also possesses high water content, which replenishes lost moisture in the skin and the hair.
Applying a small amount of aloe vera to irritated areas of the face and the body can help treat skin concerns such as acne, eczema, sunburns, and minor cuts and scrapes.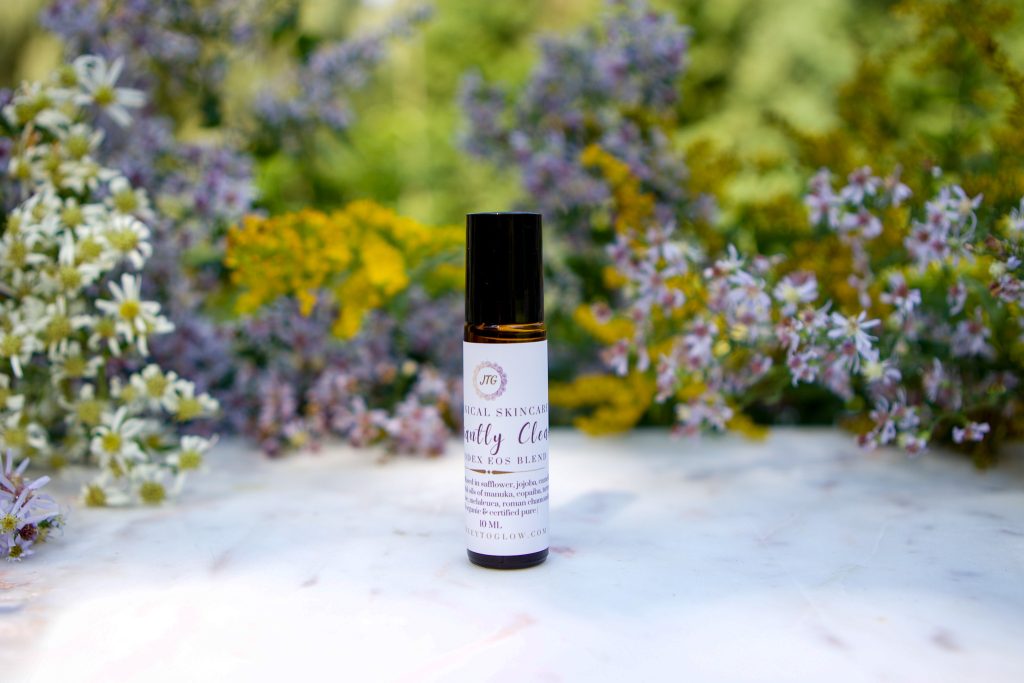 Step 4: Radiantly Clear Demodex Essential Oil Blend
Apply directly on breakouts or areas of concern. Massage to penetrate deeply. Repeat throughout the day during Demodex breakout crisis.
Skin Herbalist tip: Leave an extra bottle by your bed and roll on your skin if you feel itchy during the night (Demodex mites tend to be active during nighttime so you may feel more itchy.)
Benefits of Radiantly Clear Demodex Essential Oil Blend: 
r

educe inflammation 

target Demodex mites and rosacea breakouts WITHOUT drying the skin

anti-inflammatory, antifungal, and antibacterial properties

hydrates and nourishes

anti-redness
Shop Radiantly Clear Demodex Essential Oil Blend
*If your skin is sensitive to essential oils, please patch test first or opt for products in the Calm Skin collection.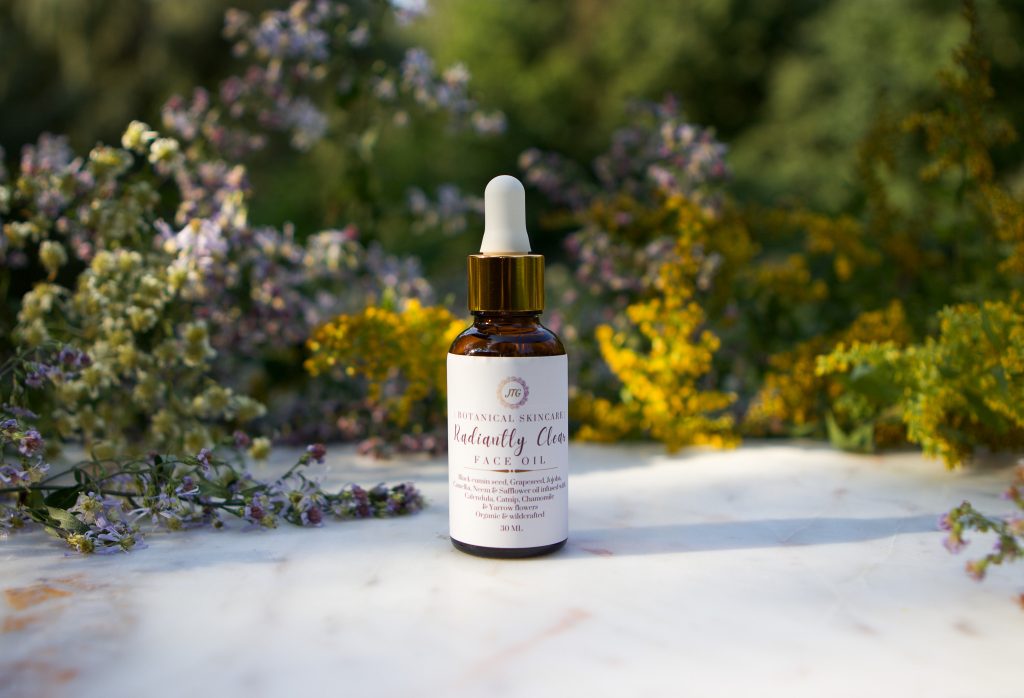 Step 5: Radiantly Clear Face Oil
Apply 6 to 8 drops on clean skin or mix with half a pump of Aloe & MSM
Benefits of Radiantly Clear Face Oil
Black Seed Oil known to effectively target bacteria, Demodex, and skin inflammation
helps fade dark spots and illuminate the complexion
anti-inflammatory and antibacterial properties
astringent effects on the skin targeting enlarged pores

Deeply penetrates, leaving your skin feeling nourished and hydrated
The Radiantly Clear Rosacea Face Oil was formulated specifically for Demodex mites and sensitized rosacea skin.