Natural makeup for rosacea
There's nothing wrong with using natural makeup to cover the rosacea on your skin (notice I didn't say "your rosacea"?) while you work on internal healing.
I remember years ago, when traveling to Toronto, the airline lost my luggage which contained my makeup bag. (Travel lesson: always have your essentials in your carry-on!) When I landed, I made a detour to the pharmacy to buy a few basics. When I asked the salesperson where the concealers were, she said in a dry tonne: "You know, you can't cover your skin forever, you're going to have to do something about it." (Huh – thanks lady.)
First, let's define natural:
Natural means mineral-based makeup, free of toxic ingredients.
There are so many toxic ingredients in makeup (and skincare) that someone made a documentary about it. If you're new to the topic, it may surprise you to learn that the good people running big corps don't actually care if you get cancer using their products, they care about profits, which you'll discover in Toxic Beauty. Wanna put a stop to this idiocy? Share this information with everyone and stop buying toxic crap. Profits drive their decision, so if you stop giving them your money and demand better, things are bound to change.
So what kind of toxic ingredients can you find in makeup? A lot, actually.
This is the Never List from Beautycounter (click the + to expand).
Before we jump into makeup for rosacea, remember that proper skincare is key. Learn more about rosacea skincare here and shop for botanical skincare for rosacea here.
The Never List™
The Never List™
Benzalkonium Chloride
A disinfectant used as a preservative and surfactant associated with severe skin, eye, and respiratory irritation and allergies. Found in: sunscreens, moisturizers.
Butylatedhydroxy Anisole and Butylated Hydroxytoluene
Synthetic antioxidants used to extend shelf life. They are likely carcinogens and hormone disruptors and may cause liver damage. Found in: lipsticks, moisturizers, diaper creams, and other cosmetics.
Coal tar hair dyes and other coal tar ingredients
A byproduct of coal processing that is a known carcinogen. It is used as a colorant and an anti-dandruff agent. Found in: hair dye, shampoo.
Ethylenediaminetetraacetic acid (EDTA)
A chelating (binding) agent added to cosmetics to improve stability. May be toxic to organs. Found in: hair color, moisturizers.
Ethanolamines (MEA/DEA/TEA)
Surfactants and pH adjuster linked to allergies, skin toxicity, hormone disruption, and inhibited fetal brain development. Found in: hair dyes, mascara, foundation, fragrances, sunscreens, dry cleaning solvents, paint, pharmaceuticals.
Formaldehyde
Used as a preservative in cosmetics. A known carcinogen that is also linked to asthma, neurotoxicity, and developmental toxicity. Present where quaternium-15, DMDM hydantoin, imidazolidinyl urea, diazolidinyl urea, sodium hydroxymethylglycinate, 2-bromo-2-nitropropane-1,3 diol (Bronopol), and several other preservatives are listed. Found in: shampoo, body wash, bubble bath.
Hydroquinone
A skin-lightening chemical that inhibits the production of melanin and is linked to cancer, organ toxicity, and skin irritation. Found in: skin-lightening creams.
Methylisothiazolinone and methylchloroisothiazolinone
Chemical preservatives that are among the most common irritants, sensitizers, and causes of contact skin allergies. Found in: shampoo, conditioner, body wash.
Oxybenzone
Sunscreen agent and ultraviolet light absorber linked to irritation, sensitization and allergies, and possible hormone disruption. Found in: sunscreen, moisturizer.
Parabens (methyl-, isobutyl-, propyl- and others)
A class of preservatives commonly used to prevent the growth of bacteria and mold. Parabens are endocrine (or hormone) disruptors, which may alter important hormone mechanisms in our bodies. Found in: shampoo, face cleanser, body wash, body lotion, foundation.
Phthalates (DBP, DEHP, DEP and others)
A class of plasticizing chemicals used to make products more pliable or to make fragrances stick to skin. Phthalates disrupt the endocrine system and may cause birth defects. Found in: synthetic fragrance, nail polish, hairspray, and plastic materials.
Polyethylene glycol (PEG compounds)
PEGs are widely used in cosmetics as thickeners, solvents, softeners, and moisture-carriers. Depending on manufacturing processes, PEGs may be contaminated with measurable amounts of ethylene oxide and 1,4-dioxane, which are both carcinogens. Found in: creams, sunscreen, shampoo.
Retinyl palmitate (Vitamin A Palmitate)
Retinyl palmitate is an ingredient composed of palmitic acid and retinol (Vitamin A). Data from an FDA study indicate that retinyl palmitate, when applied to the skin in the presence of sunlight, may result in adverse health consequences like lesions and photosensitization. FDA, Norwegian and German health agencies have raised a concern that daily skin application of vitamin A creams may contribute to excessive vitamin A intake for pregnant women and other populations.
Sodium Lauryl Sulfate and Sodium Laureth Sulfate (SLS and SLES)
SLS and SLES are surfactants that can cause skin irritation or trigger allergies. SLES is often contaminated with 1,4-dioxane, a byproduct of a petrochemical process called ethoxylation, which is used to process other chemicals in order to make them less harsh. Found in: shampoo, body wash, bubble bath.
Synthetic flavor or fragrance
An engineered scent or flavoring agent that may contain any combination of 3,000-plus stock chemical ingredients, including hormone disruptors and allergens. Fragrance formulas are protected under federal law's classification of trade secrets and therefore can remain undisclosed. Found in: all types of cosmetics.
Toluene
A volatile petrochemical solvent that is toxic to the immune system and can cause birth defects. Found in: nail polish.
Triclosan and Triclocarban
Antimicrobial pesticides toxic to the aquatic environment; may also impact human reproductive systems. Found in: liquid soap, soap bars, toothpaste.
How to shop smartly for natural makeup for rosacea:
#1 Avoid Sephora at all cost
Although Sephora has now jumped on the clean beauty bandwagon (hello profits) they still dedicate most of their floor space to toxic beauty brands. I personally avoid that place like the plague. Plus, to get to the tiny green beauty section, you'll have to walk through the perfume section, which is so toxic it'll give you a headache. Avoid. Period.
#2 Shop trustworthy brands or online stores that have a clear mission to support or lead in the green beauty movement
Beautycounter is one, so is the detoxmarket.com. My go to is detoxmarket.ca since I'm shopping from Canada.
#3 Read the labels
Best way to know what's in your makeup bag is to read the labels and educate yourself on the ingredients
#4 Download the Think Dirty app to guide your choices
#5 Run ingredients through the SkinDeep database created by EWG.org, a resource I suggest bookmarking
My favorite natural makeup for rosacea
I like to keep things simple and avoid putting any unnecessary products on my face, so I don't color correct, I don't use BB creams and rarely use SPF, especially if I use the Pure Pressed Powder which has a 20 SPF. (Learn more about sunscreen for rosacea here.)
1. RMS Uncover Foundation: It comes in many shades: I bought 3 and mix them according to my needs (summer or winter). The cream feels hydrating so this is definitely an option if your skin feels dry which is often the case with rosacea. I also love that it looks natural and can be layered for more coverage.
2. Jane Iredale Pure Pressed Powder 20 SPF: This product was recommended by a makeup artist who was wearing the Pure Pressed Powder on her face and I could not tell she had any coverage, it really looked natural.  I've been using it for years and it never disappoints. It provides great coverage and you can layer it. The only caveat is if you have dry skin, in which case it may be too drying. I like to "set" the powder with a few spritzes of hydrosol– (another trick from my makeup artist friend.
*I will usually use either the PurePressed Powder or the RMS Uncover Foundation. If you need extra coverage you might want to start with RMS and touch up with the PurePressed Powder as needed.
3. Rituel de Fille concealer: definitely one of my favorites concealers. A little goes a long way and in fact too much and it can look "caky" (not great). I also bought 3 of these and blend according to my needs. Another great concealer is from Ilia although this ones feels a bit drying to me.
4. Pai The Impossible Glow: mix la few drops with your face oil or face cream and voilà: glow!
5. RMS Luminizer: I love to apply a bit of Luminizer on cheek bones, especially if I used the Pure Pressed Powder.
6. Rose & Helichrysum Pure Hydrosol: Not really makeup but still a must if you've used the Pure Pressed Powder as you'll want to "set" the powder. I love that it also gives the skin a nice dewy.
7. Ilia Mascara: one of the few clean mascara that doesn't crumble on your cheeks or below your eyes by the end of the day!
Summary of brands I like:
Jane Iredale
Pai
RMS
Ilia
Rituel de Fille
Don't forget to give your skin a breather by skipping days wearing makeup whenever you can. And don't forget that your skincare also has to be clean and nontoxic!
If you have rosacea, you may also struggle with Demodex mites. Learn about demodex mites and how to get rid of them in this article.
Need guidance on your skin healing journey?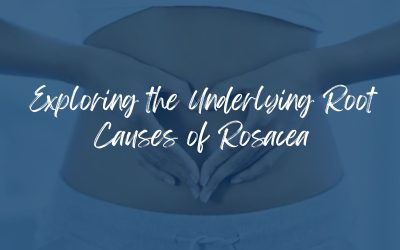 Exploring the Underlying Root Causes of Rosacea In this blog post, we'll explore the underlying root causes of rosacea and the contributing factors that may lead to its development. Let's start with a better understanding of what is rosacea... Rosacea is characterized...